Dampierre's Butt Spanking SoulCalibur 5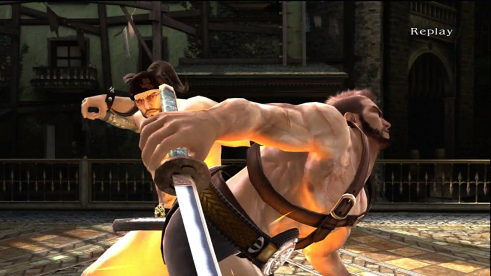 Dampierre was freely available within the game for those who pre-ordered. I didn't get the chance to and thought I wasn't missing out on much. That's until I matched up with him in Quick Match mode and saw all these ridiculous moves. His fighting style is quite quirky and dirty. What fighting style has you hold a guy's legs and stomp rapidly on their crotch?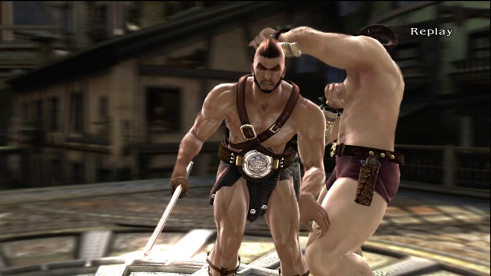 Eventually he became available for the rest of the public as a DLC, marking this the first time I've ever purchased any Soul Calibur DLC. I totally skipped out on the whole Yoda/Vader, sorry they just weren't worth it.
Dampierre's moves sometimes ends up with him doing self inflicted damage, or he'll make both him and his opponent fall down together. I don't know how good he is on a competitive standpoint, but he ended up being the most interesting fighting style in the game.
From a Bara standpoint, Dampierre isn't much of a looker, he's one of those guys you have to stare for a while before you might consider him attractive. However, using his fighting style on a custom character lets you perform a very homoerotic throw. Though, Voldo's moveset still manages to create a gay atmosphere, but we'll talk about that another day.