Bara Game: See No Evil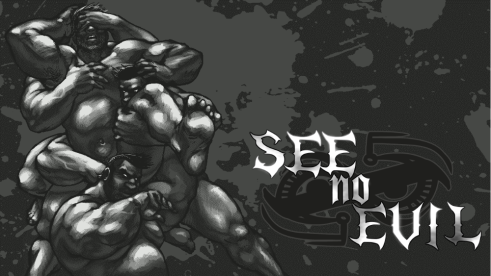 See No Evil
Bara Game: See No Evil
Creator: Captain Gerbear
Price: $12 CAD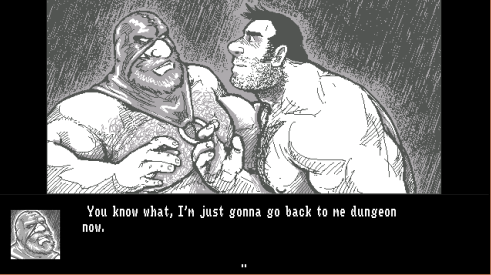 (Warning: Contains Minor Spoilers)
It's been quite a long time since I've played an adventure game. The last one I recall was Escape from Monkey Island which released what… 13 years ago? See No Evil strives to revive that genre with a pixelated art style reminiscent of games from the DOS generation.
You play as Orsino who wakes up after a night of drinking and finds himself trapped in limbo. With his house in ruins, engulfed in ominous black flames, he decides to investigate by entering a strange palace off in the distance. Inside he meets Lord Barrod, a demon who taunts Orsino into a life of servitude by suggesting our poor hero submits to him. Orsino can freely submit to Lord Barrod at any time he pleases, but once this happens, it's game over from here!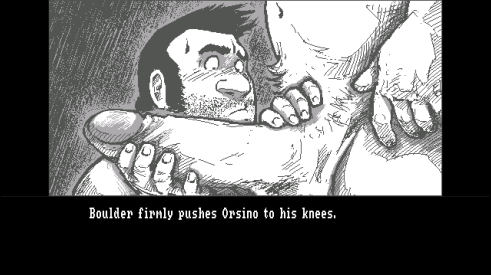 As with most adventure games, you'll have to type in some commands to advance the story. Most of the interactions are done through the up or down arrow key, and if you leave Orsino idle, you'll see some extra dialogue that can help you get passed some of the more challenging "puzzles," so to speak.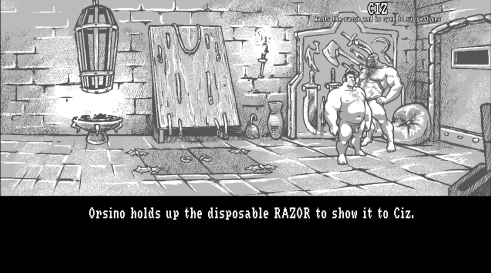 Tip: Take note of any word that shows up in capital letters.
The general flow of the game requires you to form a pact with the demons around the palace. In addition, there are several rooms you need to activate by performing a specific ritual. For example, one room might ask for a demon to make Orsino scream, and what better way to scream than through some nice butt pounding action.
Once the deed is done, Orsino has to seal the room by chanting out the correct incantation. For this to happen, Orsino has to first learn of the correct phrase by investigating a poster in the room. Afterwards, he must head to the library,  memorize the entire spell, and return back to the room to complete the ritual.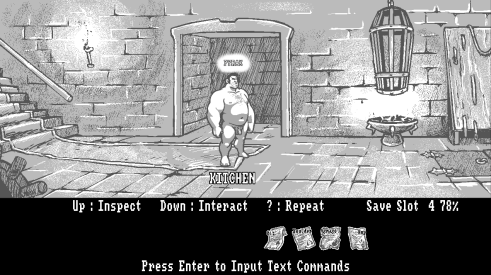 Tip:  There's one incantation that can't be found on a poster.
Once you activate all the rooms and complete the final incantation you beat the game! Well… not really. Maybe you should listen to those Thralls again. Something about those phrases seems a bit off.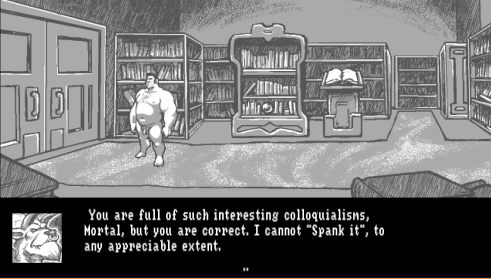 Though See No Evil might be a porn adventure game, it puts itself on a higher level, it's well written and reads like a novel. As evil as Lord Barrod can be, his dialogue makes it seem like spending an eternity under him might not be such a bad thing… Well maybe it is, but it doesn't have to end that way!
If you'd like to try it out the game first hand, you can download the demo at the Big Finger's Selz Store. The full version is $12 CAD and can be purchased here with a credit card.